The Idea
Prithviraj Kapoor dreamt of having a 'home' for his repertory theatre company. In 1962, he leased 2 plots of land in Juhu's suburb of Mumbai. On one plot he built a cottage for himself, and the other he built a theatre. Unfortunately by the time the theatre was constructed, Prithvi Theatres closed down, mainly due to his ill health. This was the end of an era in Hindi theatre in India. After Prithviraj Kapoor died in 1972, his son Shashi Kapoor decided to fulfill his dream and re-built the theatre in his memory, to promote and rejuvenate Hindi theatre.
Both Shashi and Jennifer shared a passion for theatre. and a great respect for Prithviraj's dream for Indian theatre. After studying the situation of theatre in the country, they felt the need for a unique theatre space - a space where the intimate and compelling actor/audience relationship, not unlike that of traditional Indian folk theatre, could be rediscovered.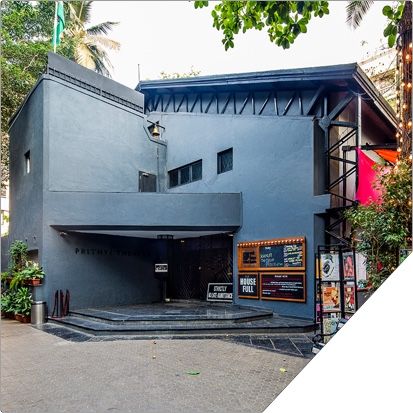 Constructing Prithvi
A few years later, Shashi and Jennifer set up a Trust in Prithviraj Kapoor's memory and bought the 2 plots of land originally leased by Prithviraj, with the intention of building and running a theatre to promote the performing arts. They employed a young architect Ved Segan, and sent him on a tour of theatres in England and Europe - to study theatre spaces, and to watch shows in them to get a better understanding of the function space was supposed to serve.
Ved Segan returned and worked closely with Jennifer Kapoor to construct the Prithvi Theatre - and succeeded in building a charmingly intimate space with excellent acoustics and a pervasive feel of theatre. Prithvi Theatre was inaugurated on 5th November 1978, and has over the years become a focal point for thousands of theatre lovers. It was born of a love and passion for theatre and it continues to thrive on the patronage and good wishes of its actors and its audiences.
Message from the Trustees
The Prithvi Theatre has been designed not only for performances, but also for rehearsals, discussions and meetings.
In short, it should inspire the greatest possible interest in the professional theatre. In order to do this, we have chosen to build a thrust stage with the audience arranged in a steep bank on three sides of the acting area. At the rear of the thrust is a small open-end stage intended to be used as a background and entrance rather than an acting area.
This is a form that has been widely used for centuries, in traditional performances. Our aim is to rediscover the intimate and compelling actor & audience relationship that has been lost in today's theatre. Such an arrangement should also be ideal for music recitals - as the back row is no more than 25 feet away from the centre stage, artificial amplification becomes unnecessary and we approach the intimacy of the old 'music room.'
The entire building is air conditioned, including the dressing rooms. The theatre will be run on a non-profit basis. The hiring charges are expected to cover merely the running charges.
We hope we have built a 'space' which will be stimulating and challenging both to the directors and actors who use it, as well as exciting and involving for the audience.